West Lancashire Borough Council have released their "Preferred Options Plan Review" for consultation, as part of their Local Plan development.
The full document can be viewed here  Local Plan Preferred Options
You can submit your opinions here 
The Parish Council has submitted it's views and they can be viewed here
You can view the plan, attend consultation sessions and give your views at https://www.westlancs.gov.uk/lpr and we strongly urge everyone to do so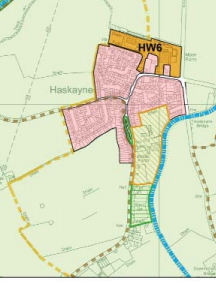 The map is on page 214 – a key to the map is on page 206.
A larger version is here
This plan identifies "HW6, Blundells Farm, Haskayne" as a site for 50 residential dwellings – this is to the north of the village from behind Chisnall Brook to Wanisher Lane.

The above table can be found on page 90.
From Page 17… "New development will be promoted in accordance with the following Settlement Hierarchy, with those settlements higher up the hierarchy, in general, taking more development than  those lower down and new development being of a type and use that is appropriate to the scale and character of settlements at each level of the hierarchy."
Haskayne is classed as a "Rural Sustainable Village" and sits in 4th place in this hierarchy, after "Regional Towns", "Key Service Centres", "Key Sustainable Villages", and before "Small Rural Villages".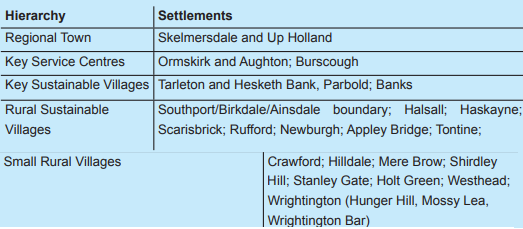 So far we have submitted the results of our Housing Needs Survey as part of this consultation and are considering a full response to the latest preferred options – this will be discussed at the Parish Council Meeting on the 13th November 2018, 7:30 at the Village Hall.
The results of our survey showed that
69% of respondents believe there is no requirement for additional housing.
The most common reasons against future development were the need to retain agricultural
land, to preserve the the character of the area and to maintain the current landscape.
The most common reasons for wanting more housing were the need for retirement accommodation and
affordable housing.
Preference was expressed to site any future developments on nonagricultural land and in small scattered plots throughout the area
The plan also calls for permitting entry level affordable housing developments on "Rural Exception Sites" that are "adjacent to settlement boundaries".
Overall we will continue to do our best to represent your views and engage with the Borough Council to get the best outcome for our area.